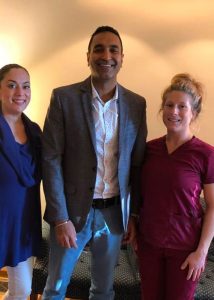 Dr. Singh is dedicated to quality dentistry and creating lasting relationships with our patients. His commitment to making each patient experience memorable is seen from the moment you enter our office door. His passion to incorporate technology in the practice has led to foundation of the state of art practice with top of the line sterilization techniques.
Dr. Singh has spent numerous continuing education hours to hone his skills in various fields of dentistry ranging from but not limited to Invisalign, complex Root Canals, Cosmetic Dentistry and Oral Surgical procedures.He is a member of Academy of General Dentistry, American Dental Association, Connecticut State Dental Association, and Invisalign E-Connect Study Club.
In his free time, he likes to workout and play racquetball, spend time with family and friends. He wishes his skiing skills were as good as his dental but it's going to take a few more winters to get there.